Did you know that where you buy your cat food from reflects the overall nutritional quality of the product? Do you know where to find the best cat food brands? How does your cat food rank?
Conscientious pet owners pursue looking for better quality foods for their companions. Does your current cat food rank amongst the foods that really provide the top nutrition for your pet? If budget is an issue, you just might be surprised at how the math works out to provide the very best cat food for less than you would pay for middle quality foods.
At the grocery store…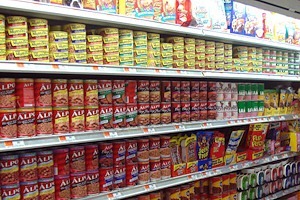 In the United States, convenience stores and large chain grocery stores are the most accommodating locations for pet owners to buy pet food at. The brands of pet food at these outlets are historically the most susceptible to FDA recalls.  Recalls occur not because of faulty packaging, but because certain ingredients or even the total content will fail to pass tests for toxicity limit values somewhere along the manufacturing process. Sometimes the product fails to meet minimal essential vitamin and nutrient requirements mandated by the FDA and USDA.
Cat food brands found in grocery stores are generally not appropriate to provide as a long term, staple diet for cats. These brands frequently contain ingredients that cats cannot easily digest and can cause damage to their internal organ systems from trying to process harmful ingredients. Soy, wheat, corn, sugars, artificial colors, chemical preservatives and by-products in pet foods are linked to causing diseases and ailments such as UTI's, IBD/S, Diabetes, hyperthyroidism, other organ dysfunction and obesity. Buying pet food brands generally available in large chain grocery stores should be avoided.
At the pet supply store…
A number of pet owners will make regular trips to a local corporate-chain pet supply store in search of better food. The cat foods available at pet supply stores is a bridge in quality between the products carried in grocery stores and items that are a degree of improvement above grocery store inventory. Many of the pet foods in the major pet supply chains are manufactured by the same companies who produce the pet foods sold in grocery stores. Their next-tier brands sold in a pet supply will often omit a few artificial ingredients and by-products, and use improved sources of protein in their formulations than their junior grocery store brands.
Corporate owned pet supply chains are commonly the place where a pet owner's budget for spending on food hits their limit. The price of foods available at these outlets can easily double in cost (or more) from what a consumer would spend on pet food at a grocery store.  Additionally, the minor inconvenience of having to go out of the way to make pet food purchases can quickly become a hindrance to providing a healthier diet consistently.
At the boutique…
Pet boutiques are niche stores operated by small business owners who provide a category of premium specialty products for pets. This is where to look to really find the best cat food brands. Specialty pet food companies manufacture food products which contain higher percentages of  quality, human-grade animal protein than middle brands. They often use organically grown and GMO-free natural ingredients. These pet foods are formulated to more closely resemble the components of your pet species' natural prey if they were to hunt on their own.
What is often overlooked by pet owners doing comparison shopping between major pet supply chain brands and pet boutique specialty brands is that the foods in niche stores may actually cost less per serving of food for their pet than the major pet supply chain labels. Why?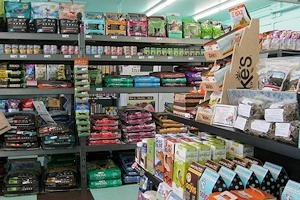 Foods in the niche specialty stores are known to be nutrient dense. Where feeding suggestions for a mid-grade brand may be up to 2 cans per day for a medium sized cat,the same cat may get its fill on just a single can per day on a specialty brand.
For the hefty leap forward in the quality of ingredients in specialty pet foods compared to middle brands, the retail price between them may actually end up roughly equivalent, and possibly better.
Instead of paying $1.50 each for two cans of middle quality food to feed your pet for one day ($3.00 total), you may only need to pay $2.20 for a single can of a specialty brand food. The richness and density of the nutrients in the boutique brands means the cat will get what it needs in fewer ounces. Immediately seeing that it costs $2.20 for one can of cat food vs. one middle brand can of the same size at $1.50 has been an unfortunate but common mistake pet owners make in their calculations for budgeting pet food costs. Don't compare prices per can. Compare the feeding guidelines and calories between each brand of food per ounce.
Pet boutiques are a growing niche business. More are opening at a steady pace all over the United States to be of service in pet-loving communities. The nature of the business to provide high quality foods locally makes pet boutique stores exceptionally accommodating and flexible to fit your needs. By calling a store in advance, you can verify that your preferred items are in stock, they can have items ordered from the manufacturer, special order certain products, and even pack and have your order ready for you to pick up when you walk in. Some offer shipping and will deliver to your address.  Some offer customer loyalty and shipping discounts.
At the computer…
If shipping costs from ordering from a pet boutique will cause your budget for food to go out of your desired range, there are many pet food warehouses you can purchase from online. Online specialty pet food stores such as [[[PetFlow]]], [Wag]]], [[[Pet Food Direct]]], and [[[Pet Care RX]]] offer free shipping for purchasing about a months worth of food at a competitive price. They also offer coupon codes and discounts for purchasing your pet food on an automatic subscription. These stores may offer reward discounts for referring friends and family.
An online pet food store such as [[[Only Natural Pets]]] offers pet food products sold in individual cans instead of exclusively by the case. This is helpful for when trying out new foods instead of committing to buy a dozen cans of food your pet may not end up eating.
At the butcher shop…
The very best cat food "brand" is formulated at home with the ingredients supplied by a local butcher or meat market. This gives the pet owner complete control over what ingredients go into the food. Recipes are based on using the components of a cat's natural prey as a model for their nutrition. In a homemade preparation, protein, vitamins and minerals, amino acids, probiotics, enzymes and plasma provides their complete nutrition from a natural source. It eliminates the need for supplementation using man-made synthetic vitamins or artificial additives and preservatives.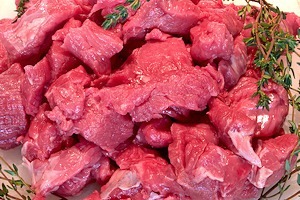 Home-created pet food encourages healthy body weight and promotes excellent oral and dental health. Meals can easily be tailored to accommodate healing specific health conditions. Studies are increasingly reporting that the digestibility and nutrient absorption of prey model diets is superior to any commercial pet food diet available.
Once a pet owner has educated themselves about how to make healthy and nutritious pet food at home, (it's quite easy, actually!) cost and affordability end up being in line with purchasing middle brand and specialty foods on a regular basis. There may be an initial expense for startup costs to acquire kitchen appliances such as a meat grinder and quality storage for freezing. One of the top recommended and trusted pet food recipe books available is called, "Dr. Becker's Real Food for Healthy Dogs and Cats Cookbook" available in the pet section of the Mercola.com website.
At the heart of it all…
Even providing a combination of home prepared food such as minced chicken giblets or gizzards on occasion and middle or specialty brand commercial pet foods part time, offers a variety of nutrition healthier than store-bought pet food alone. The best pet food brands found in boutiques and online stores steer clear of using ingredients cats would not naturally eat, using minimal-to-no synthesized vitamins to supplement the food.
These brands, and home-prepared recipes provide nutrition that is highly digestible, easily absorbable, easy on the system and are appropriate for the species. The density of nutrients in quality specialty brand foods allows the same ounces of product to go further for the cost. Pets eat less per serving, per day as directed by the guidelines stated on feeding instructions and they feel satisfied. It is credible for the price difference between the best cat food brands and middle quality brands in reality have nearly zero cost difference at all when compared and are worth investigating for the sake of your pet's health.
Photo courtesy: Jeffrey O. Gustafson, Noble Beast Natural Market AZ, Neil Hoskins
---